Since 2005 the Poor Man's Jug Band has
delighted audiences throughout the Pacific NW
Here's more info on the band members...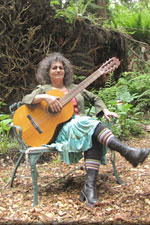 Simme Bobrosky honed her chops playing LA coffee houses in her twenties before moving to the Skagit Valley some 30 years ago. In addition to guitar and vocals, Simme plays a variety of percussion.
In addition to being a multi-talented musician, she is a visual artist, yoga teacher, Reiki Master and Occupational Therapist. She studied Fine Arts at California Institute of the Arts and graduated with a BS degree in Occupational Therapy from USC.
Simme worked as a professional Belly Dancer and teacher for 15 years in L.A., Portland, Seattle and Vancouver, B.C., dancing with Greek, Arabic, Persian and Armenian Bands.
As a musician she has performed with Tiferet, Taneen, Juba, Anzanga and The Kosher Red Hots. She performs and leads in ceremonies, churches, synagogues, weddings and festivals.
She studied percussion with Saeed Abbas, Jane Hall, Alfredo Gormenzando, Glen Velez, Marco Zonka. In India she studied tabla with Chakalal Mishra and Konoko vocal rhythms with Sri T.H. Subash Chandran.
---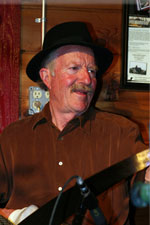 The group's elder statesman is George Jay. George inherited his Wright and Disston musical saw at the tender age of 11 and has been playing it ever since.
Although his grandfather was widely known for playing classical music on the instrument, George has gravitated to a wide variety of popular music on it. In addition to playing in PMJB, George has shared the stage with a number of Pacific NW bands, adding both a novelty and a critically acclaimed musicality to tunes from rock to jazz to zydeco.
In excursions to Europe he spent time busking in the metro stations of Paris and Provence, as well as in some Paris jazz clubs. During time spent in the South Pacific, George also played with several ukelele bands.
George is a retired mining speculator and fund-raiser who has traveled extensively throughout his lifetime in search of gold and other metals.
---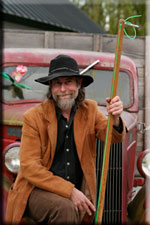 Born into a family of artists, creativity has long been part of the life of Gary Sparrow. He has been involved in the Northwest music scene since the early 1970s, when he played flute and saxophone for six years with the Clay People. With PMJB, Gary plays his trademark green-with-shamrock-cutout gut bucket bass.
He has played at venues like Subdued String Band Festival and has been busking and playing street music since his late teens. He has performed with artists such as Michael Costello, Dr. Kronen, Jeffrey Yeager and Tommy A.
Gary lives on an off-the-grid 20 acres with his roving mule, Wilbur, in a rural lifestyle of beauty and solitude most can only dream about. He also has a sprouts-growing business called Happy Valley Sprouts, that produces for many restaurants and other customers in the Salish Bio-Region. However, his true passion is music, and when he gets going on his gut-bucket, watch the folks crowd around for a better look.
---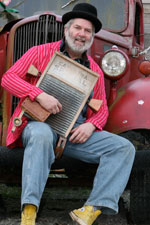 Ranger Kidwell-Ross took up drums in 1965 and was in his first band the very next year. Although he played drum kit for many of the intervening years, in the last several decades has branched out into proficiency in most types of percussion, including congas, zydeco scratchboard and the traditional rubboard.
He earned both a B.A. and Masters in Economics while paying his way as the drummer in the '70s band called Rain. He was the percussionist for the Bumblebees and other bands include The Haole Boys, Been'er Brothers, Those Low Flying Coyotes and Swampdragon.
Along with well-known guitarist/singer Gypsy Lou, Ranger was honored to be chosen to play his zydeco scratchboard at Thailand's 2nd World Music Festival in 2007, the first time cajun music was brought to that country. Additionally, he has shared the stage on scratchboard with national artists Vicci Martinez, Tab Benoit and Kelly Thibodeaux. He is also currently the scratchboard player for Zydeco Explosion.
In PMJB you never know what he'll be playing, from his Samsonite kick drum to newspaper for a snare. In between there's rubboard, kazoo and plenty of antics designed to entertain, both musically and otherwise.
---
For more information or to book the crowd-pleasing Poor Man's Jug Band to your next event, call 360.724.7355 or send us an email.